Cannabinoid Test Kit (TLC)
€56,03
TLC kits check purity (number of ingredients and quantity). Get reagent tests to identify detected substances.
FREE DELIVERY OVER 100€ ★ Daily dispatch at 11 GMT ★ Discreet packaging ★ Shipping label with no mention of "PRO Test"
CBD and THC rulers
Booklet, gloves, pipette, pencil, jar
UV-C light (requires 4 AA batteries)
20 Glass Tubes (1 ul), 5 Test Tubes,
5 Testing "Cards" (20 tests), Testing Liquid (30 ml)
This kit can help estimate cannabinoid potency, but for identification requires the TLC dye
Available on back-order
Description
By purchasing Cannabinoid PRO Test Kit you promote harm reduction and the fight for drug policy based on human rights and facts, not prejudice.
How to use the Cannabinoid PRO Test (TLC)
CANNABINOID PRO TEST KIT
Cannabinoid PRO Test is a kit for detecting cannabinoids in a sample and estimating their potency (%). Includes a thin layer chromatography (TLC) set equipped in all required accessories and tools calibrated for measuring quantity of THC and CBD. It is used to positively identify THC, THCV, CBD, CBC, CBG, CBN and other cannabinoids or to rule out different, syntethic, less predictable and less desirable, highly toxic dangerous drugs. This kit can be used to test CBD / THC potency of herbs, hashish or other extracts and foods, however the set does not replace reagents for identifying THC and CBD.
The Cannabinoid PRO Test Kit includes instructions, developing jar, gloves, glass tubes, pipette, rulers, testing "cards", testing liquid and UV-C light. Each 1 testing "card", 4 glass tubes and 6 ml of testing liquid account for up to 4 tests. Testing "card" can be reused until fully used. Glass and metal protect reagents from air and moisture to ensure prolonged shelf life. High-quality caps and lid guarantee 0 spills.
Cannabis potency test includes testing liquid and optionally the TLC dye. It's best to use this test kit for marijuana (dry herbs) or hashish and other extracts, but it's also good for fresh flowers, cakes and other cannabis products.
NOTE: Testing "cards" for testing cannabinoids are very sensitive and have to be stored in a dry, dark space. If you are uncertain whether the cannabinoids test kit will work, test it with an already confirmed sample.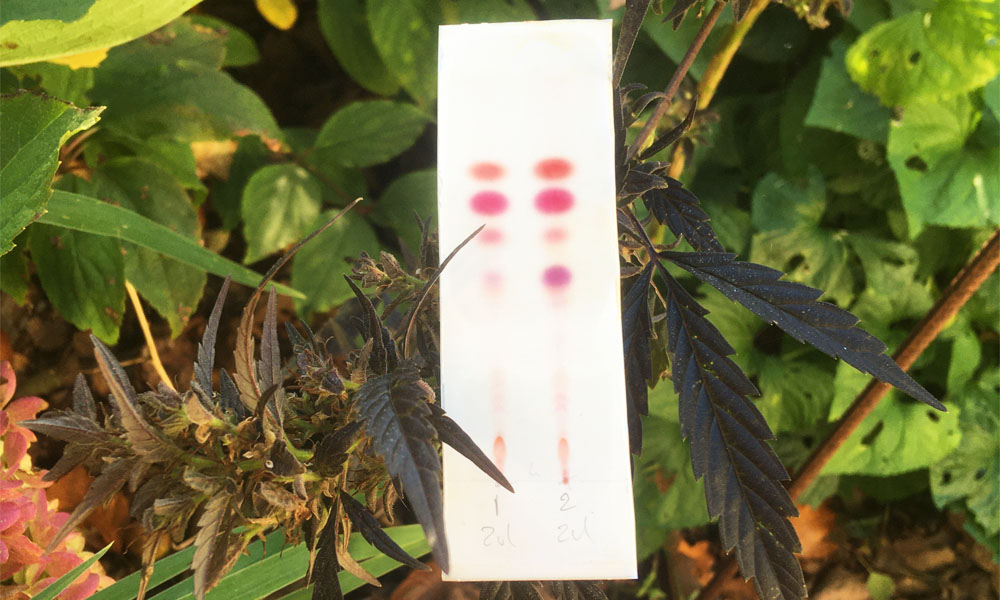 Are you still looking for the best reagent test? See all drug testing kits HERE. Next choose a TLC purity test kit. It allows you to discover full number of ingredients and estimate their amount, however still requires reagent tests to identify detected compounds.
HANDLING
Testing liquids contain harmful substances. Keep out of eyes and mouth. Keep away from children and animals. Always use in a well-ventilated area. Wear gloves (supplied) when handling the bottle and cap. Never point liquids or UV-C light towards face etc. Dispose of any unwanted reagent with running water, ventilate. Good for at least 5 years since purchase.
A positive or negative cannabinoid test kit reaction does not indicate if a substance is safe. No substance is 100% safe.
App and support available
Amber glass for corrosives
Designed to last you years
We refund unused test kits
5% of profits goes to PAH