Substance testing
Acid
Blotter
DOC
Ehrlich
Erlich
GEL
Gel tab
Hoffman
Hofman
Hofmann
LSD
lsd-25
lsd25
Marques
Marquis
Mecke
Microdot
Nbom
Nbome
How to test LSD gel tabs?
LSD gel tabs (also known as windowpane) are more tricky to test than other forms of LSD such as blotters, pills or crystals, because they contain more filler (carrier) substance, and because that substance itself can cause inclonclusive results. With gel tabs the typical LSD tests (Ehrlich reagent and Hofmann) are known to cause false negatives or false positives if tests are used without following specific instructions. 
The recommended methods to test gel tabs are:
Testing middle of a gel tab

Relying on Hofmann reagent

Extracting LSD before reagent testing
Testing middle of a gel tab
LSD is famously known for wildly varying in potency between seemingly indentical samples, even from the same batch. That means that one piece from a blotter or gel strip can contain a certain amount of micrograms, while another just next to it can have much less or much more, not necessairly a similar amount. 
Factors which affect LSD potency are:
Degree of degradation in storage

Quality of batch preparation method
First and foremost, it has to be noted that LSD is a very volatile compound. If stored improperly, in a hot and/or humid environment it will degrade fast. For example on festival grounds a sample that was brought in can significantly loose potency by the end of the party, especially if it was kept in a tent in hot wheather.
Next, quality of batch preparation method refers to how "acid" is combined with carrier medium. Most of the time it is mixed with a solution which later solidifes (gel) or soaks in (blotters, sugar cubes). Less often LSD-25 is of course also sold as crystals, pills or liquid (in which case liquid should be evaporated before attempting reagent testing).
I
n very rare instances LSD is not made in batches but rather manualy pipetted onto individual doses, leaving parts of  sample inactive, possibly causing false negatives.
In all these examples the lysergamide is initially dissolved and evenly mixed, but depending on factors such as type of carrier medium, drying surface, time and temperature LSD can become unevenly spread out between doses. That is why it is recommended to test middle of a sample, especially if testing corner already ended up with a negative result.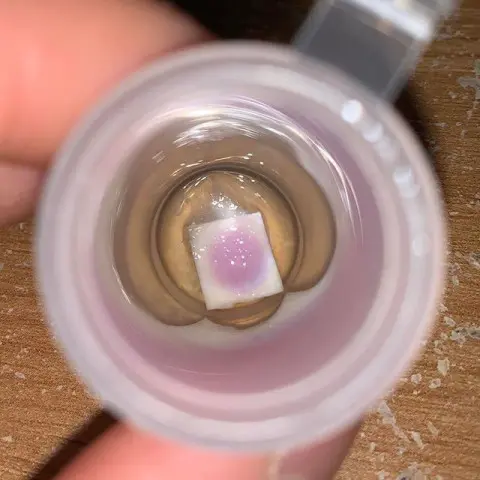 Ehrlich test result of handmade LSD
Relying on Hofmann reagent for LSD
As with all LSD samples we highly recommend to always pair Ehrlich reagent with Hofmann reagent (both available in our LSD Test Kit). Ehrlich test alone only indicates presence of an indole (chemical structure containing a part referred to as an indole), which might be LSD but also many other compounds such as other lysergamides, tryptamines and even common food supplements: melatonin and 5-HTP or tryptophan. Unlike Ehrlich, Hofmann reagent turns blue almost exclusively with LSD. With 5-HTP or tryptophan it turns yellow to green. More reference results are available in our web app at protestkit.eu/results.
Although it might be argued that Hofmann reagent alone is enough to test LSD because of its unique reactions, we always recommend to use multiple reagents to increase analysis precision and reduce the risk of a false reading. In this case Ehrlich reagent should be paired with Hofmann test. Both these reagents come in our LSD Test Kit along with Marquis and Mecke tests, which can also indicate presence of a phenethylamine such as DOC or NBOMe, among other substances.
Below you can check a photo of two kinds of gel samples and a pill tested for presence of "acid". Orange gold flake pyramid gel tab tested positive on both Ehrlich and Hofmann. Results for green gold flake window pane rule out presence of LSD or produced an inconclusive reading, at best. Blue moon press either indicated presence of LSD or also produced an inconclusive result, as pill coloring affects the ability to read the color change. In case of inconclusive results we advise to attempt ruling out any common psychedelic adulterants by looking for an instant and vivid color change with any of the following reagents: Marquis, Mecke, Liebermann or Froehde.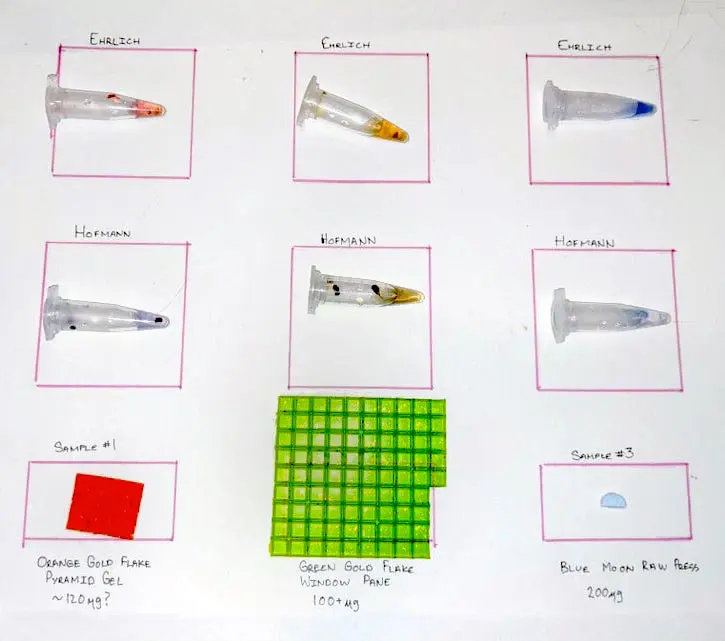 Testing LSD gel tabs and pill with Ehrlich reagent and Hofmann
Extracting LSD before testing
"Acid" gel tabs are usually made with gelatin, which can severely interfere with reagents due to the presence of various amino acids. To avoid a false positive Ehrlich result caused by gelatine it is recommended to extract the LSD into a different solution and test it separately.
HOW TO EXTRACT LSD FROM GEL TABS:
Place gel medium in small amount of water.

Basify gel-water mixture with NaOH.

Gel medium fully dissolves.

Add solvent (ethyl acetate) to gel-water mixture.

Separate off the solvent and drop onto ceramic well plate.

Without heat evaporate the solvent until dry.

Drop field reagents into wells, photograph.
Source: https://www.erowid.org/columns/crew/2019/01/reagents-and-lsd-gel-tabs/
Proceed with testing with Ehrlich and Hofmann reagents as explained earlier in this article.
LSD gel tabs test kit
The best LSD test kit for gel tabs 
is the PRO Test
LSD Test Kit
which comes with reagents Ehrlich, Hofmann, Marquis and Mecke. It can reliably confirm presence of LSD-25 and rule out chance of any active adulterants. Typical substances missold as "acid" are either closely related novel lysergamides like 1P-LSD, 1V-LSD or 1B-LSD, or more often, cheap psychedelic stimulants from the class of phenethylamines, such as NBOMe or DOC. The effects of lyseramides are hard to tell apart from LSD because they metabolize to LSD, but NBOMe or DOC can be dangerous not only to mind, but even cause bodily harm of death if ingested unknowingly in a heroic dose. 
Remember that due presence of a carrier medium (either gel, blotter or sugar cube) can cause false positives with corrosive reagents, therefore keep in mind to look for an instant and vivid color change to rule out phenethylamines, not slow browning. 
The same reagents can serve you as a
DMT test kit
and are also suitable for many other compounds, check relevant product pages for more information.
LSD reagent tests:
A positive or negative test result does not indicate if the substance is safe. No substance is 100% safe.