Substance testing
How to test amount of LSD?
Testing the amount of LSD at home can be difficult because LSD is present in samples only in trace amounts, much smaller than 1 mg, and because of common LSD breakdown products that can distort the results. In general, the following types of LSD tests are available on the market:
Qualitative colorimetric reagents
Semi-quantitative colorimetric reagents
TLC type purity tests
Qualitative reagents are used to identify substances, that is, in this context to confirm the presence of LSD and exclude particularly dangerous substances such as NBOMe or DOC. Ehrlich and especially Hofmann reagents are suitable for identifying LSD, while Marquis, Mecke, Liebermann and Froehde are suitable for detecting undesirable components. Both types of reagents can be found in our LSD Test Kit.
Semi-quantitative
(comparative) colorimetric potency test (often misleadingly marketed as "LSD purity test") can be found for purchase online. This kind of a reagent test involves evaluating the color of a reaction on a scale consisting of very similar shades of one color. Combined with a considerably high price, these qualities make up for a poor product. We decided to improve on that concept and checked whether our Hofmann test, generally used to confirm the presence of "acid," could be also used to test the amount of LSD but more affordibly. It turns out that yes, therefore when you buy a PRO test for identifying LSD you are also getting an LSD test for quantity.
TLC-type tests
separate substances and in some cases can help discover both the number and quantity of components. Unfortunately, in the context of LSD so far, they are not suitable for assessing quantity, although they can help check for the presence of LSD breakdown products.
Best potency test for LSD (acid)
The only really reliable simple way to check the concentration of LSD in "acid" is a laboratory test. However, it is not always available so an inexpensive quick test, even one with a margin of error, can be useful to avoid unnecessary risks.
Measuring amount of LSD requires:
Hofmann reagent

Plastic pipette

An "eppendorf" type vial (test tube)

Distilled water

Ceramic plate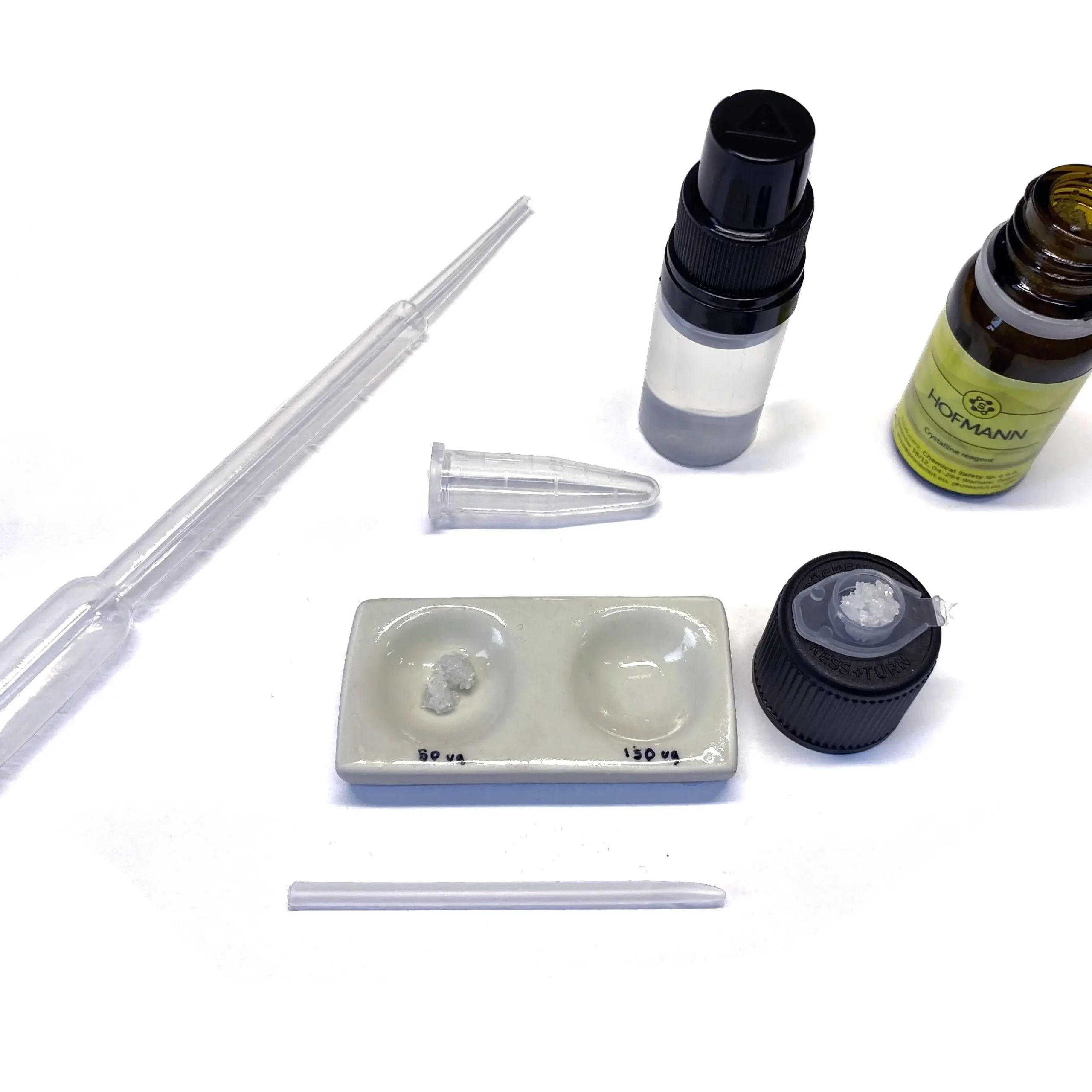 LSD potency test
LSD concentration test
The procedure for testing the concentration of LSD (acid) with the Hofmann reagent is quite simple. A sample of at least 50 micrograms of LSD must be prepared for the test. Dissolve the sample in a fine amount of distilled water, then place the solution with a pipette in the well of a porcelain test plate (included in the reagent kit). After the time required for the liquid to evaporate, use the stopper of the test tube to add 1 scoop of Hofmann reagent crystals in the well where the LSD solution has evaporated. Remember to warm to room temperature and shake the Hofmann reagent vigorously just before use. After adding the reagent, observe the color change after about 5 minutes.
LSD concentration test results:
0 – 50 ug – pale violet
50 – 100 ug – light violet
100-150 ug – violet
150+ ug  – dark violet-blue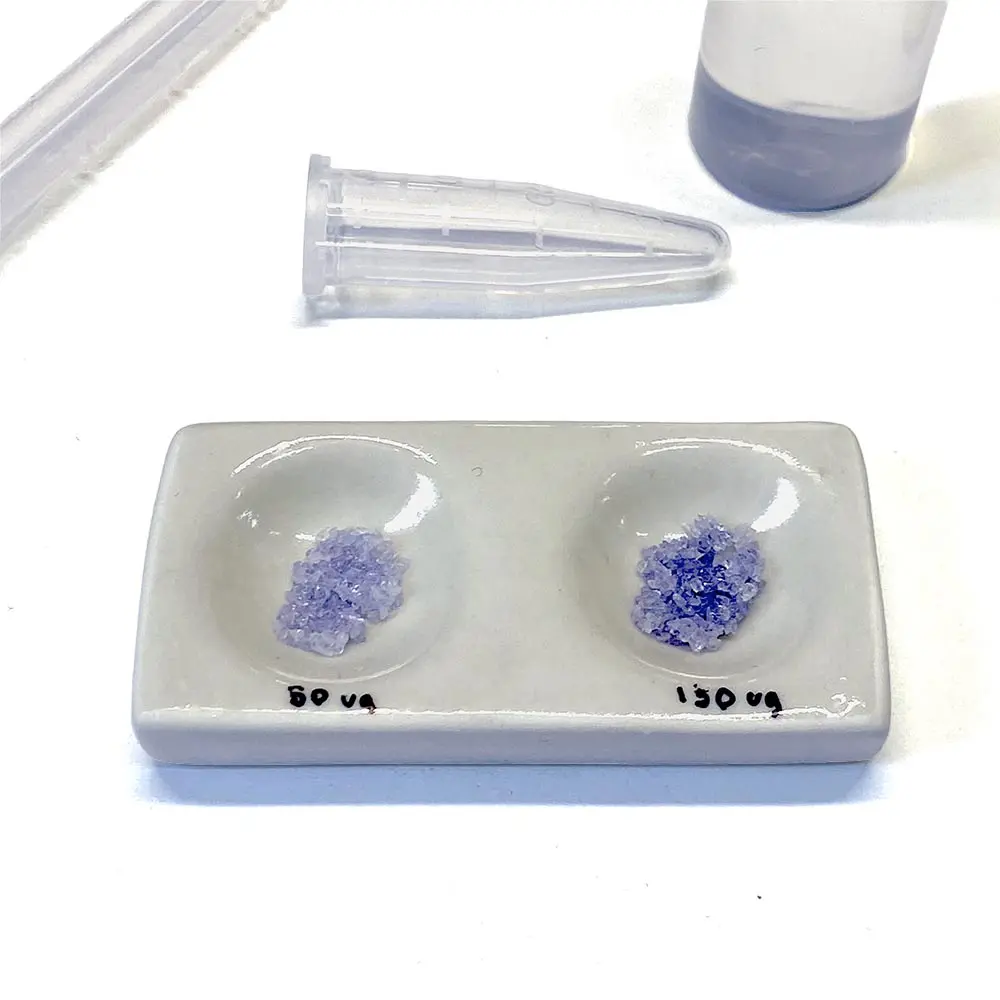 LSD concentration test results
LSD test kit
Not to be overlooked is negative identification, that is, the exclusion of the presence of certain undesirable synthetic compounds, in this context usually phenethylamines. The best-known compounds in this class of drugs are psychedelic stimulants belonging to the NBOMe and DOx families. Both are known to induce a psychedelic state of mind similar to psilocybin or LSD, but their effects on the human body are much more dangerous and intense, potentially even fatal.
To definietly rule out NBOMe in LSD (or to rule out DOC in LSD) use at least two of the following reagents: Marquis, Mecke, Liebermann or Froehde, which are available in our LSD test kit or DMT test kit (among others). When using reagent tests to rule out presence of phenethylamines you are looking for an instant and vivid color change. Do not mistake a positive reaction with a false positive – a weak, slow burning of paper or gel medium caused by corrosive nature of reagent tests.
Reagents for testing LSD:
A positive or negative test result does not indicate if the substance is safe. No substance is 100% safe.