Testing
Alkaloids
Coca
Cocaine
Coco
Coke
Liebermann
Marques
Marquis
False positive cocaine test results
Cocaine is a substance where we ask not whether it has impurities, but how many. Some of them increase toxicity, for example, lidocaine, levamisole, or stimulants such as meth/amphetamine or even caffeine. Others are entirely accidental, so they have no known interactions, for example, random pharmaceuticals from cold remedies to antimalarial drugs. Yet others are not even active substances, for example, glass particles that damage mucous membranes and increase the surface area for cocaine absorption. 
All these substances can be detected using a cocaine reagent kit in conjunction with a cocaine purity test of the TLC type. However, secondary alkaloids from the coca plant, which cause false positives in Marquis and Liebermann tests, are relatively difficult to identify. Although they themselves do not increase the risk, they may suggest the presence of much more dangerous ingredients. 
False positives in cocaine tests are mainly caused by:
Benzoylecgonine

Methylecgonidine

Tropacocaine
The recommended method
for checking cocaine involves the reagents Robadope, Simon's, Mecke, Liebermann, Ehrlich, and Morris. They primarily help exclude the most common fillers and substitutes.
Robadope

excludes 2C, amphetamine, MDA, PMA, taurine, or a significant amount of caffeine.

Simon's

excludes MDMA, methamphetamine, PMMA, cathinones, to some extent also levamisole.

Mecke

excludes lidocaine, cathinones, and various stimulants.

Liebermann

excludes phenacetin, ephedrine, lidocaine, levamisole, methamphetamine, cathinones, additional alkaloids from the coca plant. If Liebermann reacts orange, it may indicate the presence of benzoylecgonine, methyl ecgonidine, or tropacocaine.

Morris

confirms the presence of cocaine.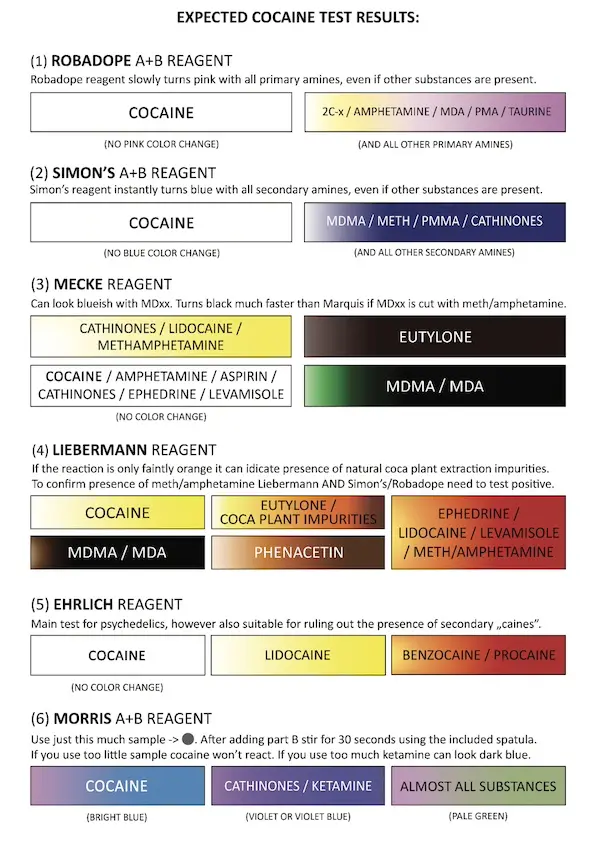 Cocaine test kit chart
How false positives in cocaine tests appear
Secondary alkaloids (benzoylecgonine, methyl ecgonidine, and tropacocaine) mainly affect the Marquis and Liebermann reagents. The Marquis reagent changes color to pink/peach, and Liebermann turns orange. Marquis with pure cocaine should not react at all, and Liebermann should remain yellow.
The Liebermann reagent may turn orange in the presence of impurities from cocaine production. On the photo you can see the results of colorimetric tests performed on a sample of cocaine that contains additional coca alkaloids. 
Without further analysis, it is impossible to determine exact concentrations, but it can be suspected that the sample does not contain any common particularly dangerous impurities. Lab test or a follow-up TLC test kit are recommended.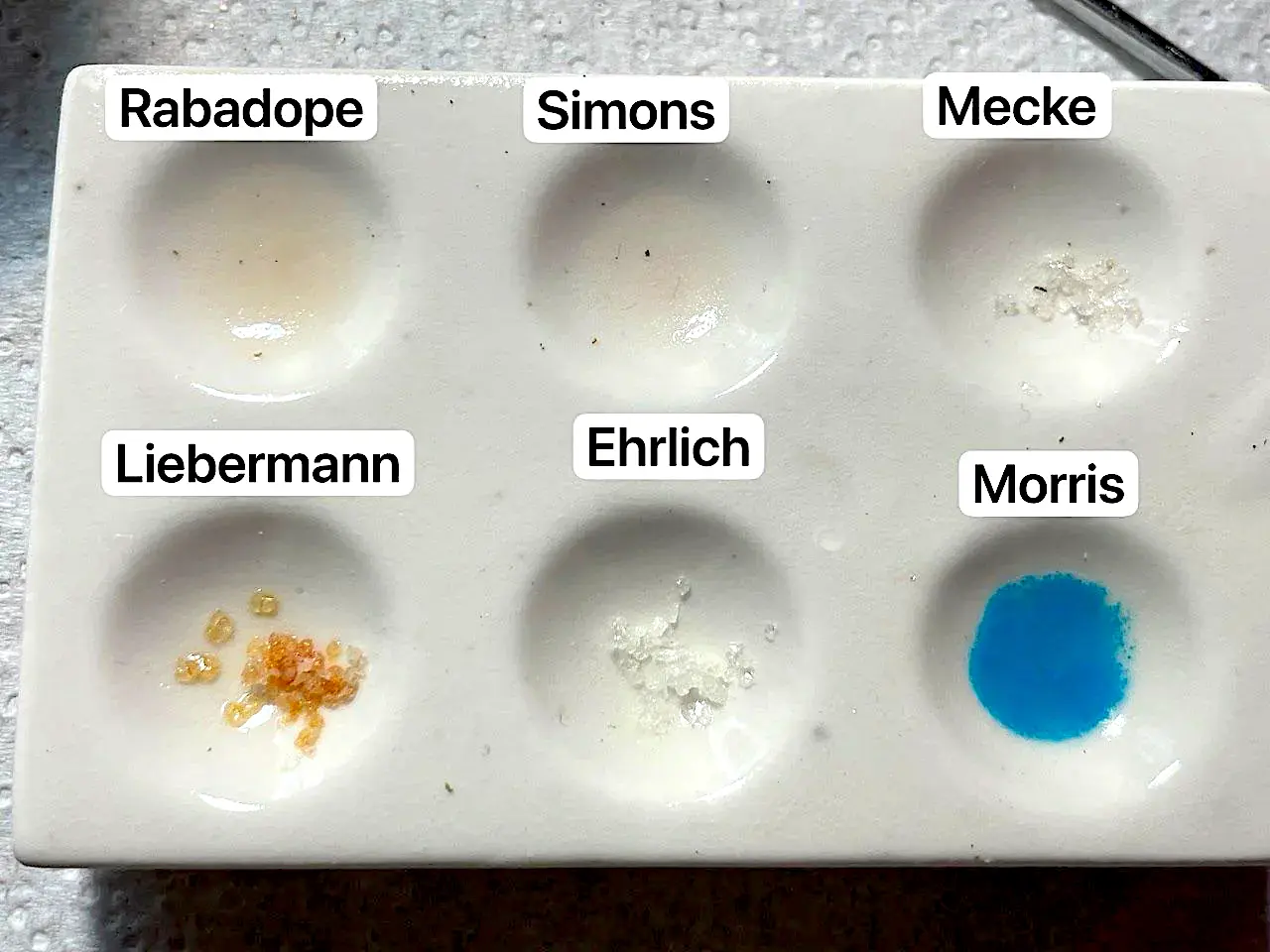 Test results for cocaine with secondary alkaloids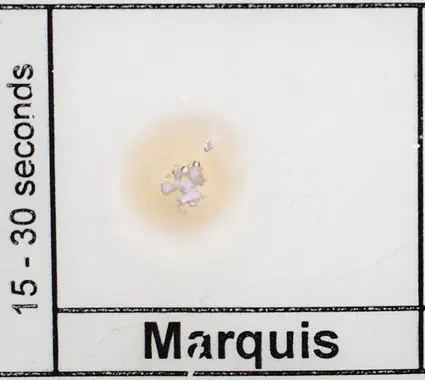 Marquis reagent result for cocaine with secondary alkaloids
The Marquis reagent is known for frequently causing false positives when testing cocaine. Generally, its orange color suggests the presence of meth/amphetamine, but it can also indicate the presence of additional alkaloids from coca. 
To ensure that the Marquis test result is a false positive, we recommend using also Robadope and Simon's tests, which selectively check for the presence of meth/amphetamine, as well as other primary and secondary amines.
What is benzoylecgonine?
Benzoylecgonine is a metabolite of cocaine and is produced in the human body as a result of cocaine metabolism. When someone consumes cocaine, the body breaks it down into several metabolites, and one of them is benzoylecgonine. This compound is usually detectable in urine and is often used as a marker for cocaine use in drug tests. Of course, it is present in cocaine for a different reason – it is suspected to form spontaneously due to improper storage.
What is methylecgonidine?
Methylecgonidine is an intermediate compound that can be formed during the processing of cocaine. It is not a natural component of the coca plant but rather a result of chemical processes related to transforming coca leaves into cocaine. When coca leaves are processed to extract cocaine, they undergo several chemical reactions. Methylecgonidine may form as an impurity during the conversion of the alkaloid of cocaine into cocaine. This compound is considered toxic and is associated with the acute effects of smoking crack since it is often present in the smokable form of the drug.
What is tropacocaine?
Tropacocaine is another alkaloid present in the coca plant. It is structurally similar to cocaine but has a modified chemical structure. Tropacocaine has stimulant properties, similar to cocaine, but its effects are generally milder. It also occurs in lower concentrations in coca leaves compared to cocaine. Although tropacocaine is present in the coca plant, it is not as well-known or extensively studied as cocaine.
It is believed that the psychoactive effects of tropacocaine are weaker than those of cocaine.
It is worth noting that the coca plant contains various alkaloids, and their concentrations may vary depending on factors such as plant variety and cultivation conditions. The primary alkaloid of interest in the context of recreational drug use is, of course, cocaine.
Cocaine test kit
The best test kit for cocaine is PRO Test's Cocaine Reagent Test Kit which includes reagents Robadope, Simon's, Mecke, Liebermann and Morris. It can reliably confirm presence of cocaine and help rule out most common cuts, both psychactive stimulants (cathinones, meth/amphetamine, caffeine) but also bulking agents such as lidocaine, tetracaine, procaine, levamisole and many other. To check the % of cocaine potency pair reagent tests with the TLC Cocaine Purity Test Kit.
Recommended cocaine test kits:
A positive or negative test kit result does not indicate if a substance is safe. No substance is 100% safe.