Testing
DOC
Ehrlich
Nbom
Nbome
LSD as the most commonly known psychedelic lysergamide is often replaced by dishonest sellers with fakes. Risks of these replacements vary. Some cause psychedelic effects, but burdened with additional undesired effects. Other might cause effects subjectively indistinguishable from LSD, but without a fully known safety profile. Rest might not contain a psychoactive compound at all, what might lead to accidental overdose upon another attempt with sample from a different source. According to publicly available lab results (source: DrugsData.org) fake "acid" can be categorized into several major groups, all of which can be of course recognized by using our LSD Test Kit.
Substances commonly sold as LSD:
Psychedelic phenethylamines

Novel lysergamides

Inactive indoles
How to detect psychedelic phenethylamines
Psychedelic phenethylamines are compounds from the NBOMe and DOx families (other do not fit in an active amount onto typical LSD blotter). There are many NBOMe and DOx derivatives, with currently the most popular being such as 25B-NBOMe, 25C-NBOMe, 25I-NBOMe and DOC. These are characterized usually by less predictable and more physical intense effects than lysergamides. DOx (DOB, DOC, DOI, DOM) are even often referred to as psychedelic amphetamines. Unavoidable are unpleasant physical effects like jaw clenching or muscle cramps and even possible is a deadly overdose. One of most dangerous phenethylamines is a currently unpopular substance known as Bromo-DragonFly (Br-DF).
Recommended LSD testing method in principle has two parts. First, it is required to confirm (or rule out) the presence of LSD. To do that we recommend to use two reagents: Ehrlich and Hofmann. Using more than one type of test is always recommended to increase analysis precision and avoid false positives. In this case, Ehrlich, is the main test for confirming presence of indoles, such as LSD, DMT, but also nonpsychoactive 5-HTP, tryptophan, tryptamine and other). The second test, Hofmann, turns blue almost exclusively with LSD.
According to research (and as suggested by logic of black market sales) if a sample is confirmed to contain LSD, it is extremely unlikely to contain any adulterant. Sellers are not willing to spend more money if they already have a product there is demand for. However if LSD has been ruled out we recommend reagents Marquis and Mecke (or Liebermann and Froehde). If these tests instantly react with a vivid color change, that might suggest presence of an NBOMe or DOx. Pay attention to not mistake slowly charcoaling paper with a positive result.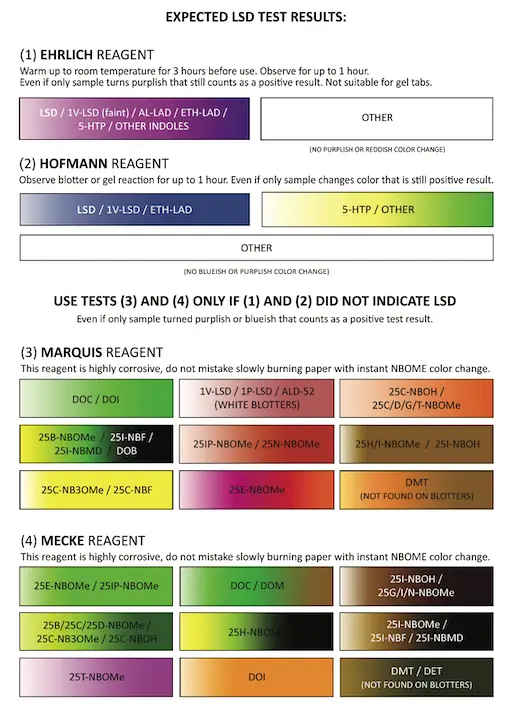 Recommended LSD testing chart
Does fake LSD have a taste?
A popular myth about checking LSD states that taste can help spot fake "acid". It is said that if a blotter or gel tab has bitter taste it can be assumend that it is not real LSD. There are however serious flaws in this theory:
Albert Hofmann, the inventor of LSD-25, wrote that pure LSD can have bitter taste
Ink or other substances present in a blotter/gel can have bitter taste
It can not be rulled out that a phenethylamine won't have a taste
In summary, the saying "
if it's bitter it's a spitter" should not be taken seriously. It is dangerous because of false sense of security it can 
cause The only recommended testing methods is
the LSD test kit
.
How to detect LSD derivatives
Novel lysergamides such as 1V-LSD, 1D-LSD, 1T-LSD and similar react in a way similar to LSD, but significantly slower. Unless they degraded during storage the reaction can not take place before sample hydrolizes into LSD, which can take an hour or longer. More about that as well as how to correctly test LSD derivatives in our recently published articl "How to test LSD derivatives". 
Can LSD tests be fooled?
False positive results are possible, but only if Ehrlich reagent is used alone. As mentioned earlier, this reagent test reacts the same with all indoles (e.g. melatonin, tryptophan, 5-HTP, tryptamine). Until now at least three samples adulterated with a random indole were published online. It is assumed the adulteration was done in an attempt to fool Ehrlich reagent. One of the published samples were detected by us in cooperation with Erowid.org, while the remaining two we found on Reddit. Although the Erowid sample was tested first with a complex laboratory method, the latter two published by users on Reddit were detected using the Hofmann reagent tests. Hofmann turns blue with lysergamides, but yellow-green or green with many other indoles. Photos below: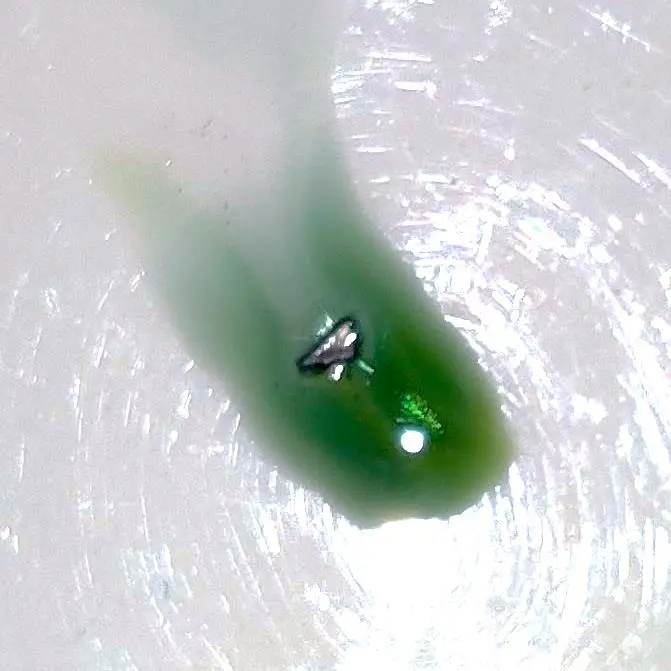 Fake LSD detected with Hofmann test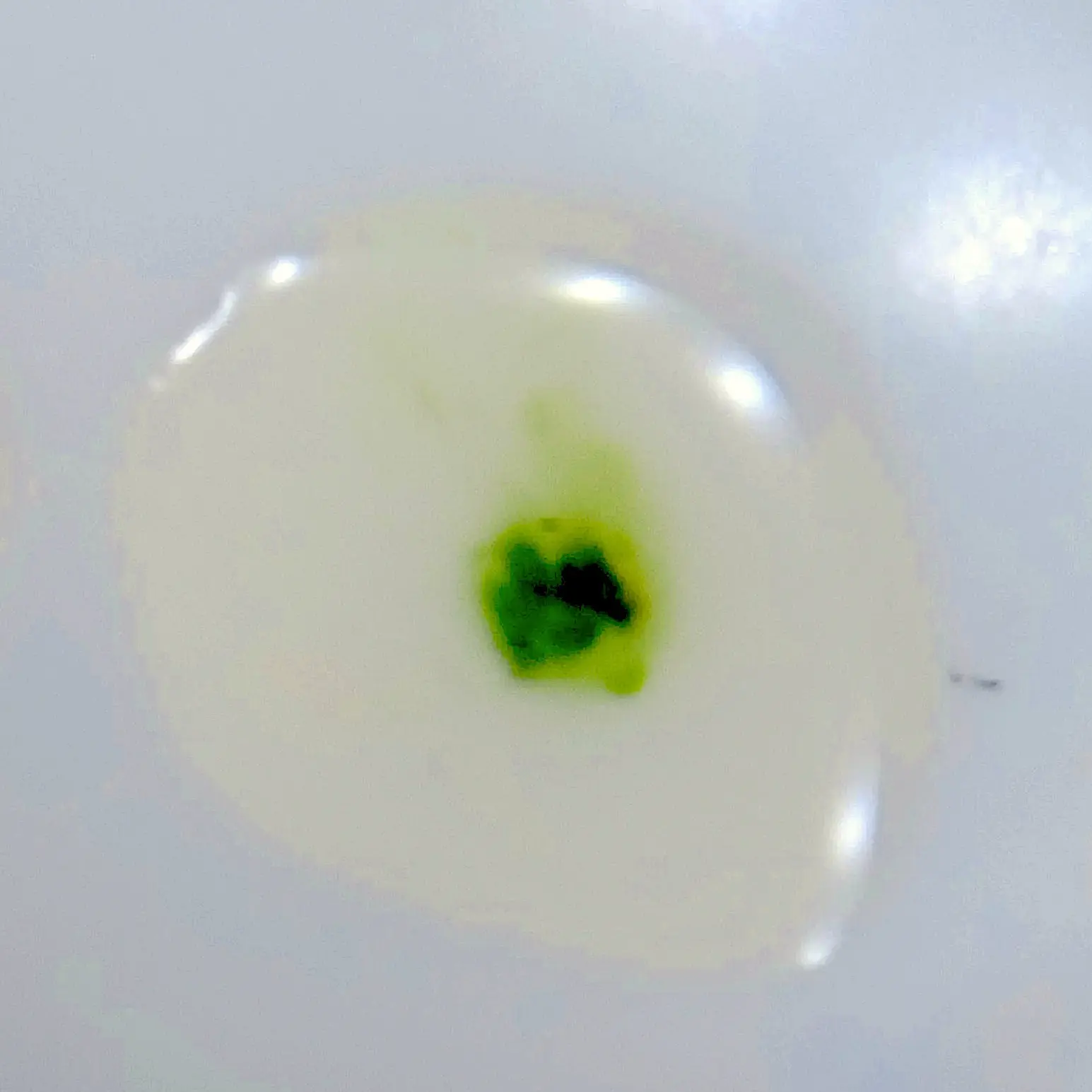 Fake LSD detected with Hofmann test
LSD Test Kit
The best LSD test kit is the LSD Test Kit which includes reagents Ehrlich, Hofmann, Marquis, and Mecke. It can reliably confirm the presence of LSD-25 and rule out the possibility of any active adulterants. The same test kit can be used for testing DMT and many other chemical compounds, check the product's respective page for more information.
Test kits for LSD and LSD derivatives:
No test kit results can guarantee if a substance is safe. No substance is 100% safe.