Testing
Amph
Amphetamine
Caffeine
Speed
TLC
Upper
How to detect caffeine in amphetamine, cocaine, MDMA and other substances?
Caffeine is one of the most common adulterants found in psychoactive substances. According to EMCDDA reports most of amphetamine in Europe contains mostly caffeine, similarly to most of cocaine. It is mostly found in stimulant drugs, but also in for example ketamine. Caffeine alone is not particularly dangerous, however unknowingly mixing it with stronger compounds can lead to a number of otherwise avoidable risks. To detect it's recommended to use a TLC test kit, which allows checking the number and amount of ingredients in a sample.
Risks of caffeine as an adulterant:
Dosing error after using substance of higher purity
Hyperstimulation, sweating, chest pain
Allergy
Quick test for caffeine presence
False positives are possible – for example when testing amphetamine with Robadope reagent, taurine is note worthy as it also causes a pink color change with Robadope reagent. Also phenethylamine (precusor often leftover fro synthesis) can turn Robadope reagent pink (source: https://doi.org/10.3408/jafst.736). As always when using colorimetric reagents it is crucial to remember that there is more substances than colors. We recommend to use a mutliple reagent test kit, or preferably pair reagents with a TLC test kit (Thin Layer Chromatography test kit).
Only by combining reagents with a TLC test it is possible to confirm purity and rule out not only the most common, but all potential cuts. Below we show TLC test results for sample containing cocaine (66%) with 10% caffeine and also ethenzamide. Reagents would neither allow to estimate the % level of cocaine, nor would they detect all adulterants, in this case ethenzamide. Source of the analysis: energycontrol-international.org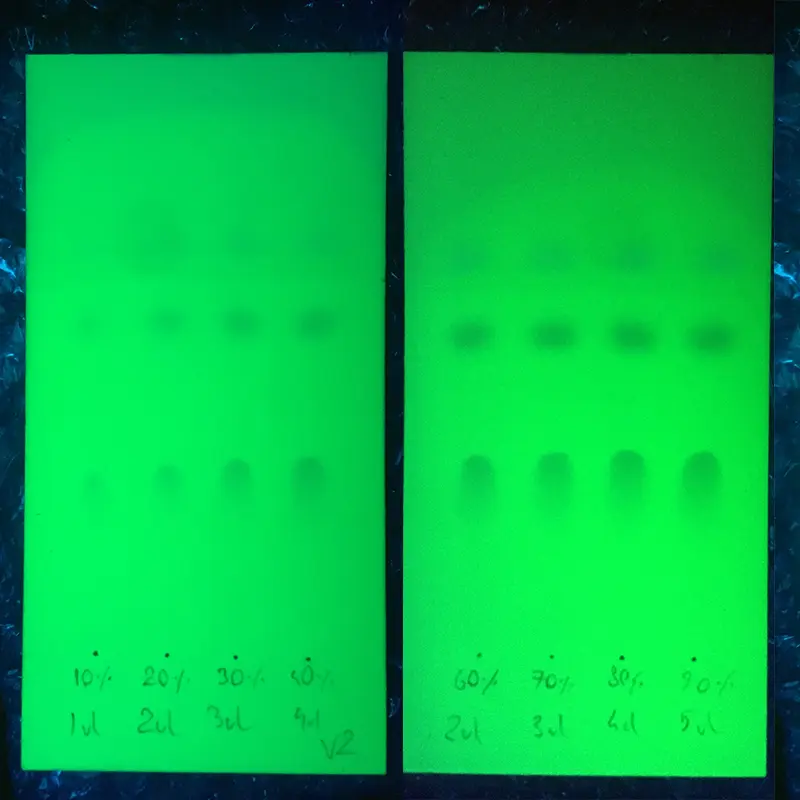 Detecting caffeine and other cuts using a TLC test kit
Full drug checking test kits:
A positive or negative test kit result does not indicate if a substance is safe. No substance is 100% safe.