Substance testing
Benzocaine
Cathinones
Cocaine
Ketamine
Mephedrone
MMC
Morris
Scott
Is Scott's reagent reliable?
What is Scott's reagent?
Scott reagent (also known as Scott's reagent) is one of the most popular drug checking tests, used in particular for cocaine. It contains cobalt thiocyanate in a water solution and in the presence of cocaine (although not exclusively) shows a color change from a reddish color (without sample) to deep blue (with sample). It also has serious flaws, which is why we decided to discontinue it and replace with a recently popularized greatly superior Morris reagent.
The Scott's reagent comprises a solution of 2% cobalt thiocyanate in a dilute acid medium. To maintain the stability of the cobalt complex and ensure that it only turns blue upon contact with an analyte, glycerol is frequently included, preventing any color change due to drying.
How to use Scott's reagent?
When the cobalt thiocyanate reagent is added to cocaine hydrochloride, it causes the surface of the particles to transition into a vibrant blue color (or a faint blue for cocaine base). The solution reverts to pink when hydrochloric acid is introduced. Furthermore, the addition of chloroform leads to the formation of a blue organic layer for both cocaine hydrochloride and cocaine base.
Diphenhydramine and lidocaine also produce blue organic layers. These compounds are recognized as false positives for cocaine, with lidocaine being a commonly employed substance for dilution or imitation of cocaine due to its local anesthetic properties.
Scott reagent is typically used for testing cocaine, especially by law enforcement agencies, customs officers and forensic specialists. Most notably with cocaine and other caines, such as benzocaine, lidocaine, procaine or tetracaine it shows the typical blue color change (sometimes called "jolly rancher blue" or simply bright blue). 
Standard practice in case of use by authorities is to pass on any suspicious suspect to be later analyzed by a laboratory using GC/MS or similar methods utilizing machines, to avoid any false positive results. 
Scott's test reacts to other (legal) "caines" the same way as to cocaine, therefore it is important to use it always in a combination with additional tools. If a lab testing service is not available, then a multi-reagent cocaine test kit and a TLC Cocaine Purity Test Kit are the next best things. In case the reagent is modified to make the sample more alkaline instead of acidic, the test can also be utilized to detect ketamine hydrochloride and other compounds.
The typical use cases for Scott's reagent are:
Testing cocaine

Test ketamine (when modified)

Testing cathinones (when modified)
Scott's reagent false positives
Scott's reagent despite its widespread use extremely often causes false positive results. In fact, to an unexperienced eye almost any substance can produce a seemingly positive cocaine-like test result. 
Strong false positives are known to be caused by "caines" but also certain novel psychoactive compounds, most notably stimulants from the tertiary cathinones familiy: a-PHP, a-PIHP, a-PVP, MPHP, but also dissociatives such as 3-Me-PCP, 3-MXP, 4-MXP, cocaine analogs like RTI-111 and more other drugs (see all matching results in our reagent testing app at https://app.testdrugs.info/analyze/13l).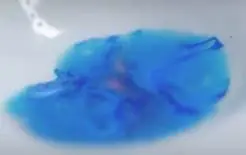 Scott's reagent strong false positive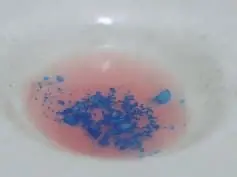 Scott's reagent weak false positive
Weak false positives are another issue, as also iliustrated by the picture above. Most compounds even if they do not change the color of Scott reagent test change the color themselves to the expected deep bright blue hue. 
A novice or layman can not be expected to recognize that difference, which makes Scott reagent a deeply misleading tool to be used in harm reduction settings, where usually no laboratory analysis follow up is available. A proper, multi-reagent cocaine test kit is required to increase identification analysis precision and reduce the risk of false positives.
Scott's reagent challenging use has been demonstrated well in a popular article published by VICE regarding use of cocaine in British parliament bathrooms. When the article's author swiped surfaces of sinks a blue color change was discovered. To an excited online uproar that was loudly claimed to be proof of cocaine use among British politicians, in the pariliament out of places. Although "coke" might indeed be popular among so-called elite, it is important to use any test kit appropriately, taking into account known test's limitations.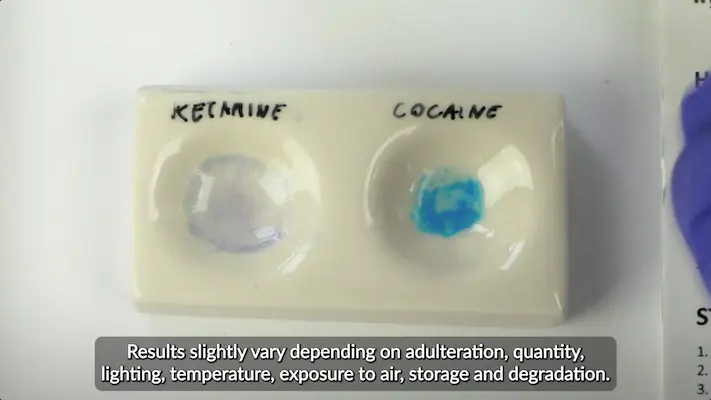 Morris reagent aka Scott reagent 2.0
Scott reagent 2.0, also known as Morris reagent or technicaly speaking basified Scott is a modified reagent proposed by American forensic specialist J. Morris in a research paper titled "Modified Cobalt Thiocyanate Presumptive Color Test for Ketamine Hydrochloride" published in Jorunal of Forensic Sciences in 2006.
In essence, by using cobalt thiocyanate solution in combination with a specific sodium hydroxide solution the reagent is made much more selective. Most false possitives turn to green color, while certain compounds cause a purple-violet or blue reaction. This reagent was recently made popular by US-based harm reduction activists who also discovered it is essential to actively mix part A with part B to produce most unique results. Morris test is the only reagent test kit which needs active mixing after adding both parts to sample.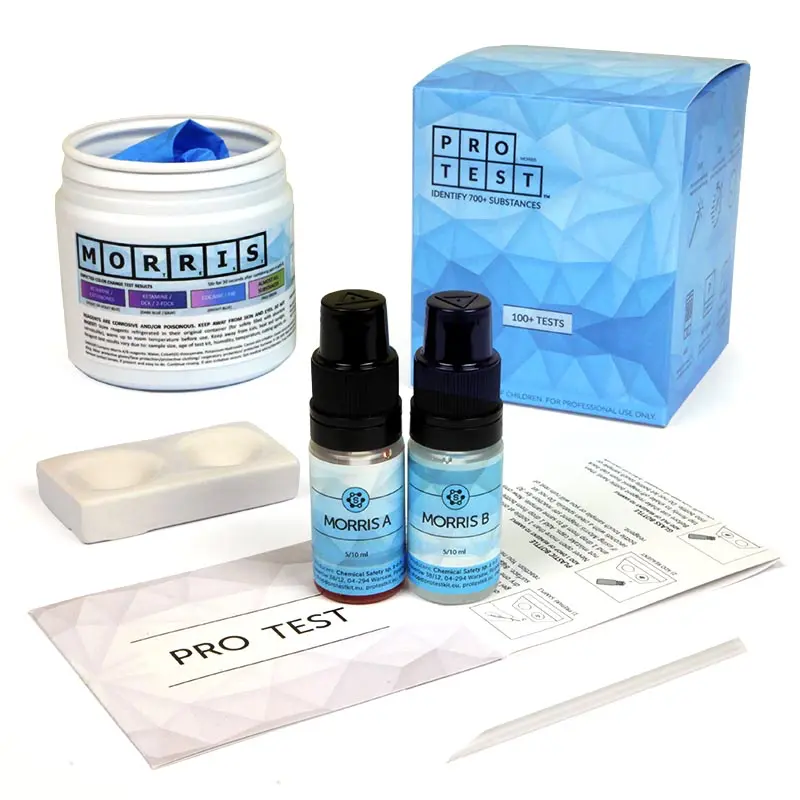 Morris reagent test kit
Scott reagent vs Morris reagent
Morris reagent is not completely free of false positives either, which highligths why it is always recommended to use a multi-reagent test kit for identification. Morris is available in our cocaine test kit, ketamine test kit as well as mephedrone test kit. The first two are the most common use cases, more than the cathinones test kit. 
It was only in 2023 discovered that many cathinones casue a ketamine-like color change with Morris test, which made it possible to identify many more substances than before. To sum up, knowing test's limitation is crucial to using it properly. We recommend our tailored drug purity test kit for the best results. 
Cocaine and ketamine reagent tests:
A positive or negative test result does not indicate if a substance is safe. No substance is 100% safe.